Search Engine Optimization Services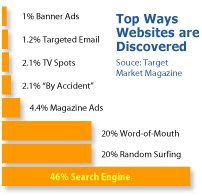 In Search Engine Optimization (SEO), the goal is to acquire the top positions within the
natural
results listing. Exware offers a
3-month introductory SEO package
the includes:
Keyword and Competitive analysis
HTML optimization
Submission to top search engines and directories
Web Linking strategy
Pay Per Click campaigns (if required)
Web Reports summarizing traffic, links, page rank, link popularity, etc.
Access to IT / web specialists, including web mastering services
What's different about Exware's SEO approach?
Exware focuses on providing quality service:
Manual site submission and optimization efforts are used. This protects our clients from being blacklisted for spamming the search engines and other websites/directories.

Clients have access to our online marketing specialists, researchers, and IT professionals to provide them with answers to their questions, advice, technical support, etc.

We provide basic web mastering services to help keep website content current and optimized (during contract period only).
What's it going to cost?
Exware's basic 3-month introductory Search Engine Package costs $2500 (includes $150/month pay per click budget)
Additional SEO Links: